According to a survey conducted by the Directorate of Cyber Crime of Bareskrim Polri (Dittipidsiber), there are 90 million cases of cyber attacks in Indonesia. Meanwhile, the Financial Services Information Sharing and Analysis Center (FS-ISAC) ranks Indonesia 9th on the list of countries vulnerable to cyber criminal attacks. So, what is a Cyber Attack and how can it be prevented? Through this article by FOURTREZZ, you will understand the definition, types, motives, and ways to prevent cyber attacks.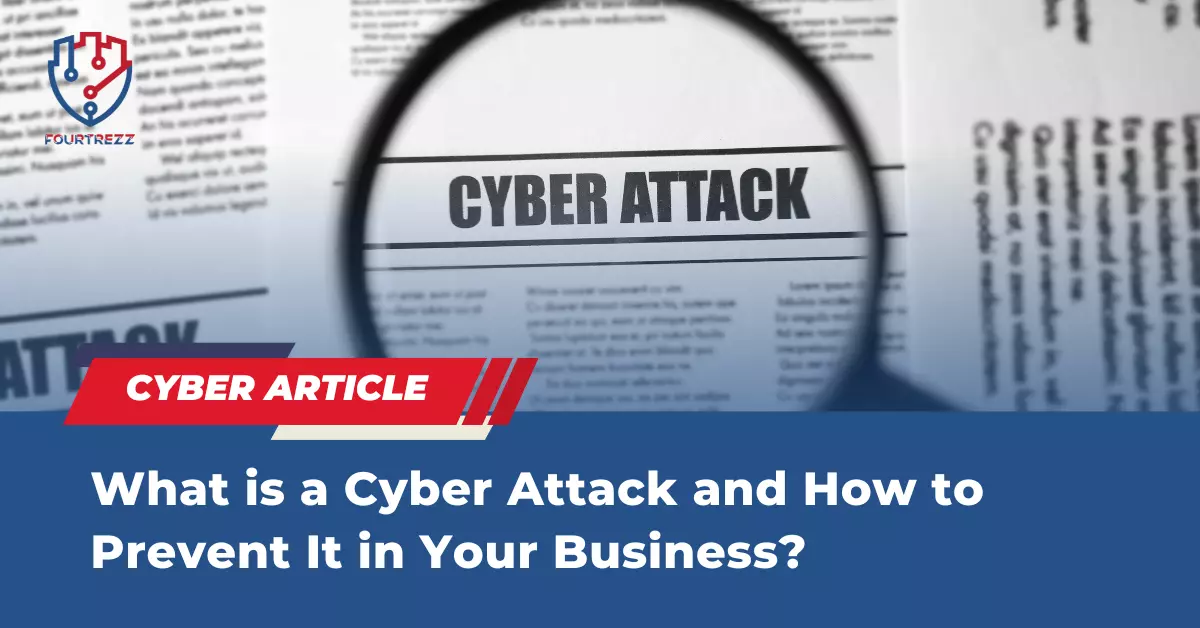 What is a Cyber Attack and how does it operate?
A Cyber Attack is a criminal act carried out by hackers with various objectives such as accessing documents on devices, eliminating information, manipulating data, and even damaging networks or computer systems. Besides causing extensive damage, cyber attacks are usually executed to steal vital data stored in cloud databases.
After understanding what a Cyber Attack is, how do hackers carry out such attacks? Cloud developers need to be aware and understand how hackers launch attacks in order to design robust security solutions. For example, malware attacks can be executed to take over user information in the cloud. Hackers add implementation services that are "injected" into SaaS or PaaS solutions, or virtual machines, rather than into IaaS. If the cloud system is successfully hacked, the system immediately redirects commands to the module created by the hackers. Subsequently, attacks can be carried out by sending a series of dangerous activities such as stealing data or eavesdropping on the company's activities. The most common cyber attacks are through cross-site scripting and SQL. During the cross-site scripting process, hackers add malicious scripts (Flash, JavaScript, etc.) to weaken website pages.
Why Should You Be Wary of Cyber Attacks?
According to various studies, the total cost due to cyber attacks in 2022 alone amounted to around 4 million dollars or 60 trillion rupiah with an average of 25 thousand dollars or equivalent to 380 million rupiah per attack. These figures arise from the losses borne by the companies or businesses themselves. What are the losses due to cyber attacks? Here's the explanation:
Hindered business pace
Loss of Customer Trust
Data Leakage
How to Tackle Cyber Attack on Your Business?
There is no 100% guaranteed way to prevent cyber attacks for a company or organization, however, there are plenty of best cyber security practices that businesses or organizations can follow to reduce the risk. Reducing the risk of cyber attacks relies on the use of a professional combination of security, processes, and technology. Risk reduction also involves three main types of defensive actions:
Preventing attack attempts from entering computer systems.
Disruption detection.
Disrupting ongoing attacks, ideally as quickly as possible.
Best practices to prevent cyber attacks include:
Set up defenses outside the perimeter, such as firewalls, to block attack attempts and block access to known dangerous domains.
Use software that can protect devices from malware, especially antivirus software, to add a layer of protection against cyber attacks.
Implement a patch management program to address known software vulnerabilities that can be exploited by hackers.
Configure appropriate security, password policies, and user access controls.
Maintain a monitoring and detection program to identify and stay alert to suspicious activities.
Create an incident response plan to guide responses to violations.
Provide training to individual users on attack scenarios and their roles in protecting the organization.
Get more information about what Cyber Attack is and How to Prevent It in Your Business? and various services from FORTREZZ by visiting our website at www.fourtrez.co.id.